Miscellaneous Cargo Cars
Multipower International, Inc. offers brand new and used industrial freight and cargo cars. We are one of the only dealers in the world to stock and deal Chinese-made cars. You can buy as is or request a freight or cargo car suitable for your application.
Our cargo cars are available for both standard as well as narrow gauge applications and extend beyond what we have pictured below. Please contact us for more information.

Type zz-KF60H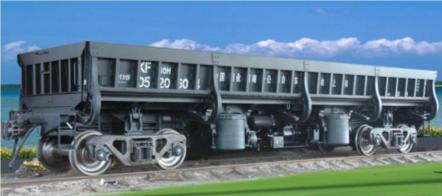 Type: zz-KF60H Hydraulic/Pneumatic Side Dump Car

Unladen Weight (ton)
≤ 34
Length (mm)
13,126
Axle Weight (ton)
25
Width (mm)
3,280
Load Capcity (ton)
60
Height (mm)
2,464
Cargo Volume (m3)
27
Ground Clearance (mm)
N/A
Minimum Negotiable Radius (m)
N/A
Coupler Height (mm)
880
Max Speed (km/hr)
120

Type zz-MT3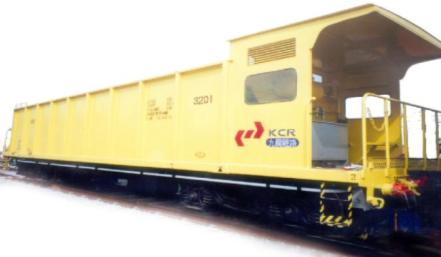 Type: zz-MT3 Cargo Car

Unladen Weight (ton)
25
Length (mm)
8,327
Axle Weight (ton)
N/A
Width (mm)
2,550
Load Capcity (ton)
45
Height (mm)
N/A
Cargo Volume (m3)
25
Ground Clearance (mm)
N/A
Minimum Negotiable Radius (m)
100
Coupler Height (mm)
N/A
Max Speed (km/hr)
80
Cargo Door Dimensions (mm)
4 doors: 1000 x 260

Type rrm-C80B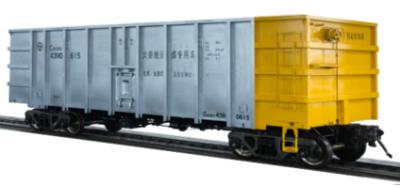 Type: rrm-C80B Open Top Coal Car

Unladen Weight (ton)
≤ 20
Length (mm)
N/A
Axle Weight (ton)
25
Width (mm)
N/A
Load Capcity (ton)
80
Height (mm)
N/A
Cargo Volume (m3)
84.8
Ground Clearance (mm)
N/A
Minimum Negotiable Radius (m)
145
Coupler Height (mm)
N/A
Max Speed (km/hr)
100

Type rrm-K13NK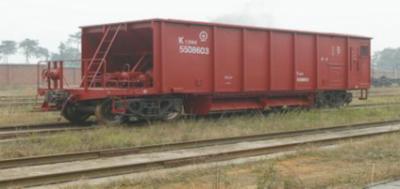 Type: rrm-K13NK Open Top Car

Unladen Weight (ton)
23
Length (mm)
12,046
Axle Weight (ton)
N/A
Width (mm)
N/A
Load Capcity (ton)
60
Height (mm)
N/A
Cargo Volume (m3)
36
Ground Clearance (mm)
N/A
Minimum Negotiable Radius (m)
145
Coupler Height (mm)
N/A
Max Speed (km/hr)
120

Type rrm-KZ70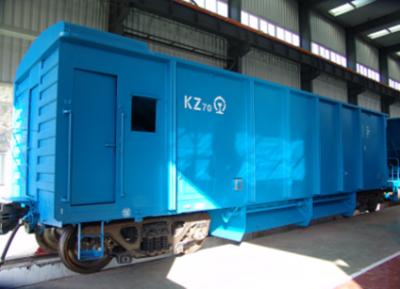 Type: rrm-KZ70 Box Car

Unladen Weight (ton)
≤ 23.8
Length (mm)
12,074
Axle Weight (ton)
23
Width (mm)
3,168
Load Capcity (ton)
70
Height (mm)
3,726
Cargo Volume (m3)
42
Ground Clearance (mm)
N/A
Minimum Negotiable Radius (m)
145
Coupler Height (mm)
880
Max Speed (km/hr)
120
Interior Cargo Volume (mm)
11,108 x 2920

Type rrm-P70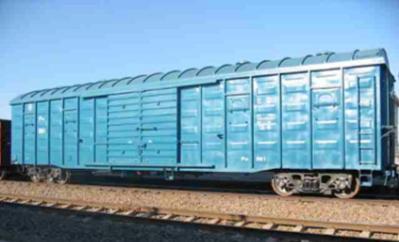 Type: rrm-P70 Box Car

Unladen Weight (ton)
≤ 24.6
Length (mm)
17,066
Axle Weight (ton)
23
Width (mm)
3,300
Load Capcity (ton)
70
Height (mm)
4,770
Cargo Volume (m3)
145
Coupler Height (mm)
880
Minimum Negotiable Radius (m)
145
Cargo Door Dimensions (mm)
2,539 x 3,012
Max Speed (km/hr)
120
Interior Cargo Volume (mm)
16,087 x 2,793