Featured Product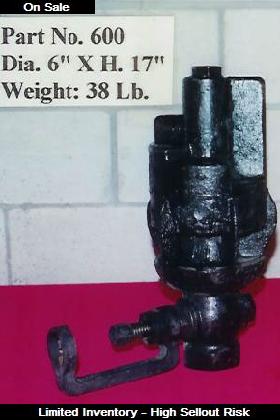 On Sale: Part No. 600 while supplies last. Multipower International, Inc. has just received a new shipment of Part No. 600 whistles. There is a limited inventory of these cast iron construction 5 Chime Steam Whistles. Price has just been reduced to $475.00 per unit and includes FREE manual operation handle.

Made of Cast Iron Construction, these 5 Chime Steam Whistles measure 6" in diameter, 16" in height and weigh 38 lbs. As with all our steam whistles, these can be operated with steam or compressed air (minimum operating pressure: 72 psi continuous) and the pipe connection has been updated for American pipes: 1-3/4" NPT.
Furthermore, this new batch of whistles are much smoother on the surface and inside the bell for improved aesthetic appeal and better sound quality.

We ship worldwide; shipping and handling extra.

This offer expires after all units are sold.

SAMPLE SOUND CLIPS
Sound Clip #1

Sound Clip #2 (better)*





Mailing Address:
Multipower International, Inc.
P.O. Box 197
Towaco, NJ 07082
USA

Email:
sales@multipowerinternational.com

Telephone:
973 331 7242

*Better Sound Clip (5 o'clock whistle.wav) is courtesy of "otei203" of the Steam-Whistles group at:
http://groups.yahoo.com/group/steam-whistles/